Rekisteröityminen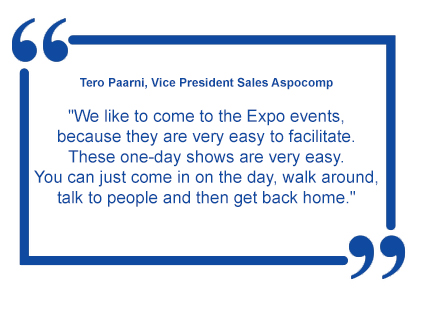 Päästäksesi messuille ja esittelyihin, täytä alapuolella oleva lomake ja paina lähetä. Vahvistus lähetetään sähköpostiisi.
Salin Pohjapiirros
Sponsorit
Varattu
Saatavilla
COVID-19 UPDATE
Evertiq is monitoring the situation closely and with the safety of others as our top priority.
Due to the current pandemic caused by the COVID-19 virus, we have taken precautionary measures and postponed all our Expos to new dates later this year:
NEW DATE

: Tampere – 21 April 2021


NEW DATE

: Warszawa – 01 December


NEW DATE

: Gothenburg – 09 December

Berlin – 11 February 2021


NEW DATE

: Lund – 06 May 2021


NEW DATE

: Krakow – 09 June 2021
Safety measures from our side - in close cooperation with authorities in the respective countries - have been considered and introduced.
More up-to-date information can be found
on the website of the WHO
.
---
EVERTIQ KOMMENTOI SÄHKÖPOSTIHUIJAUKSIA
Evertiq yksiselitteisesti irrottautuu näistä huijaussähköposteista joita viime akin on kierrellyt. Nämä sähköpostit eivä liity Evertiqiin eivätkä millään tavoin edusta yhtiömme etiikkaa.
Evertiq ei myy, jaa, taikka osta vieraita, saatikka sitten heidän yhteystietojaan.
Jos sinulla on mitään kysyttävää tai jos mikään asia mietityttää tämän asian tiimoilta, olet tervetullut ottamaan yhteyttä Evertiq tiimiin.